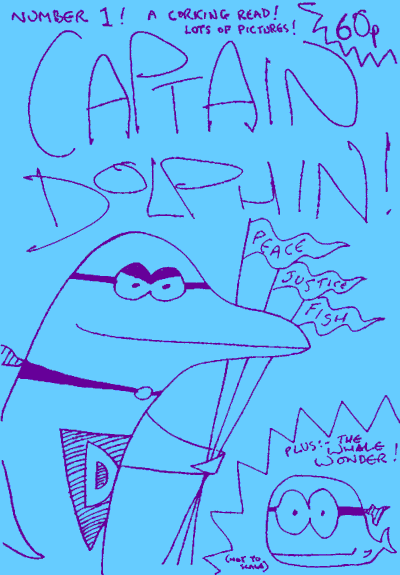 Issue #1
OH! Wow! - look! - the number one collectors edition of Captain Dolphin!!!
A valued landmark in UK Small Press history sat here, waiting for you to click on the cover & start lovingly caressing the pages with your eyes... mmmm...
Gallery:
Please - if you feel inspired - write in with a picture that you have drawn with your own fair hands & we will post this in our fan art gallery - yes yes!
Links:
There's that nice auntymeany where you can watch Raphie's comics as animated cartoons that have been especially created for the Internet! (oh, we feel so good we could hug you!)
Reviews:
ZUM!#10:
Allens#1
Sad Animal #1&2
Online ZUM! Reviews
Bad Animal
Envelope & Stick
Giant Clam
God Sneaks Round The Back of Creation For A Fag Break
Sad Animal #3&4
Two To Beam Up 1, 2 & 3
The Ralphe Diaries Volume 1

TRS
Giant Clam
Giant Clam #3
God sneaks out the back of creation for a fag

News:
19xii03: Ralphie releases Giant Clam #4 into the wild.
21xii03: Ralphie actually see's these pages on a computer & leaves a comment on bugpowder
"i,m doing helping with comperpooters and i kno all about how to do them full stop thanks paul for doing the do it looks nice full stop now wheres the cock and bum fun i've bin heering so much about?"
...at least it sounds like him...
08vi04: New Ralphie Comic!
The Ralphe Diaries volume 1 is available from Mr R Kidson Esq, Ralphiecomics multinational inc, 3 Langridges Close, Newick, Nr Lewes, E. Sussex, BN8 4LZ.
He's neglected to say how much it should cost you, mind - so try sending a couple of quid.
09vii04: Ralphie, darling of the message board set??
29ix04: Weapons Division released from Messrs Kidson & Meeks - enquire about 'arming up' from either.